We solicit high-quality submissions reporting on:
A - original research contributions (18 pages max);
B - applications and experiences (18 pages max);
C - surveys, comparisons, and state-of-the-art reports (18 pages max);
D - tool papers (6 pages max);
In addition, we solicit submissions to the Doctoral Track of FACS 2016, in the form of abstracts (3 pages max) concisely capturing work in progress, related topic, context, research questions, envisaged contributions, and partial results. All submissions must be original, unpublished, and not submitted concurrently for publication elsewhere. Papers should be formatted according to the guidelines for Springer LNCS papers (see this link for information for LNCS authors).
Papers can be submitted through the FACS 2016 Easychair website.
The final version of the paper must be prepared in LaTeX, adhering to the LNCS format.
Publication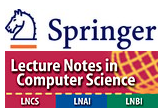 All accepted papers will appear in the pre-proceedings of FACS 2016. Revised versions of accepted papers in the categories A-D above will appear in the post-proceedings of the conference that will be published as a volume in the Springer's Lecture Notes in Computer Science series.
A special issue of the Science of Computer Programming journal will be devoted to extended versions of selected papers from FACS 2016.