Besançon is an old Roman town of Art and History where Vauban's masterpiece (engineer and military architect, XVIIe century), the Citadel belongs to the UNESCO World Heritage. The city is famous for microtechnology and watch industries. It is located in the eastern France near Switzerland border, in the heart of Europe.
Besançon can be accessed by :
Flights
Do book yours early ! International Flights to France fill up quickly.
For details, see https://www.skyscanner.fr/
The main airports closest to Besançon are:

1- Paris-Charles de Gaulle airport, then take the train RER B (ticket:10 €) in the Terminal 2 and change to RER A at châtelet to Paris Gare de Lyon (40 min), then take the direct TGV to Besançon (2h). See here and there
2- Euroairport Basel-Mulhouse, then rent a car and drive to Besançon. See Here. The round to Besancon takes about 1h45.
You can also take the bus from the basel airport to the Gare saint-louis (10 min, Distribus 11) and then to the Mulhouse gare (20min), and then a SNCF train to besancon viotte (1h10). See Here and there.
3- Geneva airport, then rent a car and drive to Besançon (1h30). See Here
4- Lyon Saint Exupery airport, then rent a car at the airport and drive to Besancon (2 hours). See Here. You can also take the fast train to the Lyon Par-Dieu train station and then a SNCF direct line to Besancon. See Here
Trains
From Paris Gare de Lyon (2h): The Paris-Besançon TGV arrives first in the Besancon Franche-comté station (15 km from city center) and then to the Besancon Viotte Station in the city center (30 min). If your train does not go directly to the center, you have to change train and take the free shuttle.
From Lyon (2h): The train coming from Lyon or Strasbourg directly arrives in the Besancon Viotte station in the city center.
To get more information please refer to the SNCF and bus network Ginko sites.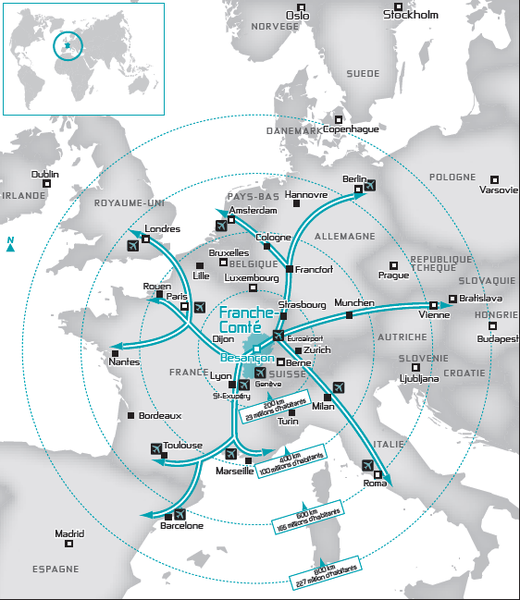 We are looking forward to seeing you in Besançon.
Feel free to contact us for any travel information
Jean-Charles Beugnot and Thibaut Sylvestre